---
---
Welcome to the Six Jolly Miners website.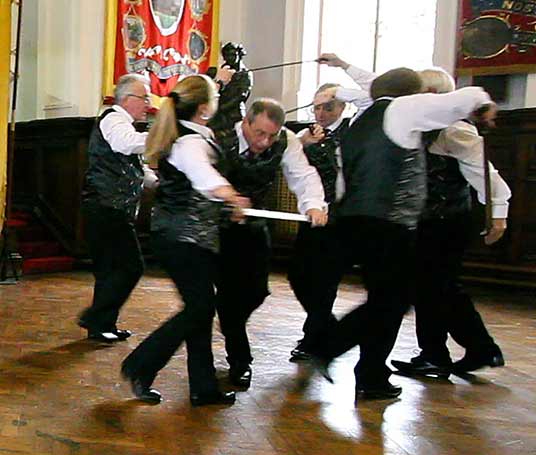 Who are we?
The Six Jolly Miners is a sword dancing team based in Sheffield, England. Our dance is a tribute to miners who have lost their lives in mining disasters, focussing on the accident Newton Chambers colliery in Chapeltown, Sheffield, in 1862, where 6 miners lost their lives. We recite their names at the beginning of our dance.
What do we do?
We take the dance out into the local community - anywhere we can put on a good and entertaining show of song and dance, while spreading awareness of what is still a very dangerous occupation.
Six Jolly Miners go to war!
We have done much research into the history of mining and miners in our local area, including those involved in the Great War, many of whom lost their lives in battle. From 2014 we will be commemorating those miners and soldiers in a new performance.
The Six Jolly Miners needs YOU!
If you would like to know where we are performing, would like us to perform at an event, or if you would even like to join the team and take part in our upcoming events and performances, then please contact us using the enquiry form.
We practice every other Wednesday at 7pm at Grenoside Reading Room, 42a School Lane, Grenoside S35 8QU
---
Visitors: 7295
---